On Friday I got far more creative than I had intended. I had already finished the bulk of the cleaning the house needed and I found myself with an idea of something to create. While woven, or Celtic tatting can be a pain in the neck with the needle, because of the long lengths of loose thread needed, I was in the mood to create more of it.
This was actually the second version as I had done the first in all black. Unfortunately, it really does need two colors so you can see the different elements intertwined. After this one I just kept going and eventually added a small lock chain loop to one of the outside joins so it could be a proper pendant.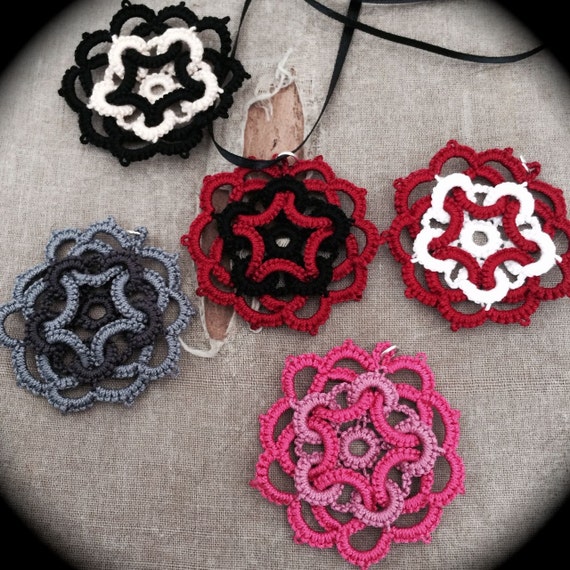 I got them listed in the shop on Saturday after some family adventuring. It was pointed out that in red and white it looks like a Tudor Rose and I concur, but I also noticed that the rings also form a star in the center, so I named it
Star Flower
. There is a slight chance I'll work it into a lapel pin as well, but only free time will tell.
Speaking of which, if I do get some free time I might work up the pattern to sell or share. I'm not certain yet, so don't quote me. Due to some pattern sharing/selling drama in the not so distant past, I had really thought about not doing any more ever. I don't like the added stress it brings to my life, but I actually had the thought when making this one, so maybe I'm over it...for the time being. Again, I really don't know because homeschooling is about to start back up and that takes precedence over everything, but I guess I wanted to share that I was even thinking about it.
One last day off before schooling starts and we have eye doctor appointments. Then I need to really get the school area ready to go and hopefully sneak a little time for more star flower tatting. Here's to a busy week ahead.