I didn't get as much done as I probably should have yesterday. I didn't have the concentration to work on the new art piece. Heck I didn't even have the concentration I needed to do the finishing work on the last art pieces. I guess I need some nice uninterrupted time to work on things that need my full brain power. So instead of doing something complex with my my day I remade a couple of small pieces and did some really simple designs.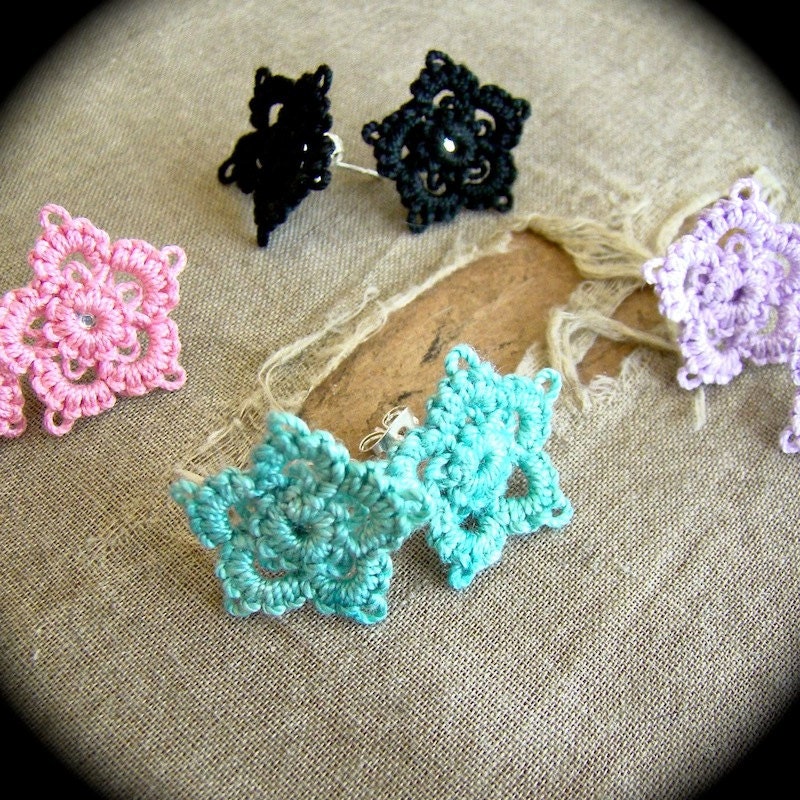 First I finished up the flower earrings and got them listed. I had a set ready to go for the lovely return custom that requested them in the fist place and I made the listing for whatever color you want. When I get the other posts in I'll do a fresh listing for those which will be just a dollar more a pair.
Then I thought a bit about how I could do a different pair of earrings, ones with a little more me in them. First I tatted one of my dangle earrings onto the base, but that didn't work at all. I mean, sure I could tat it on and it looks fine, until I put it on and it bent and twisted trying to fit next to my face. So I went back to basics again and just added a second set of petals to the flower in a woven fashion and got this swirly, pinwheel design with a seed bead in the center.
I only made the first motif in the black and green colors because they were what was on top of my thread box, but they could be done in any combination of colors. So I went ahead and tatted up a pair on posts in light and medium mocha brown for a nice sepia toned pair. That's about when I decided that I had done enough work for the day.
This morning I have a teacher meeting for the oldest child so the day will be broken up again. This probably means I won't work on the 'hard' stuff today either. I'll probably just play with more earrings and think about the things I should actually be doing. Maybe tomorrow will be normal enough to get some real work done.