Sometimes, despite things like the heat, or my innate laziness, the day does exactly as I would have wanted it too. I managed not only to get housework done in the relative cool of the morning, but did several other small tasks that I have been avoiding as well. After all that I still had the motivation to get all the new necklaces photographed and listed. As a reward for my efforts two of the four new pieces are off this morning to a wonderful new home.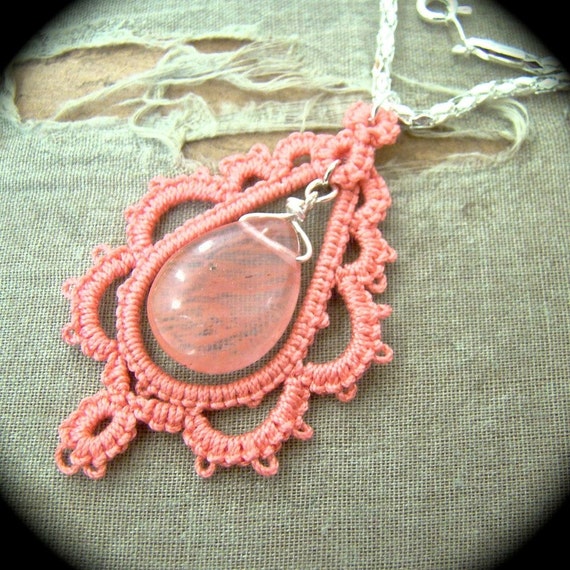 I didn't get around to showing you the salmon colored piece yesterday and it's one of the ones heading away today, so I thought a quick peek was still in order. It is going off with matching petals earrings and I'm quite happy about that. Also leaving me is the burgundy fleur necklace. The
evergreen
and
charcoal gray
are still in the shop.
Long before that sale though, I got to work on another piece using the same teardrop shape. I didn't want to do the same design so I opted for a bit of a Celtic weave with this one. I was also completely out of tear shaped stones so I fished out a flat silver piece in the perfect shape to finish it. I actually have one more of each finding I used here, but if I use them it will be either with entirely different thread or a completely different pattern.
In addition to the one of a kind pieces being sold, I also got another order for my cat ear headband. That thing sells so much better than I ever imagined. So today I'll be making up as many of those as I can handle. I need to get some inventory on it so I can stop rushing to remake it every time it sells. I also pulled out a few more filigree pieces yesterday so I might get to some more one off pieces. I may hate the extreme heat, but it is affording me the opportunity to get a lot of things made.