Well I had quite the day yesterday. I started out with a pair of earrings that needed making and then I moved on to my first problem of the day. I had acquired small LED lights that I wanted too use in the jellyfish. They twist on and off and are fairly small, but also kind of chrome in color and just hanging them inside would make them very obvious and I couldn't have that. My first task was making a light cozy. It only took a few tries before I had the right shape and now it hides in the oral arms of the jellyfish much better. I added a hook to the bell and to the light, so that it can be removed and the batteries can be changed. It's so small the battery won't last too long, but that's was we sacrifice for size.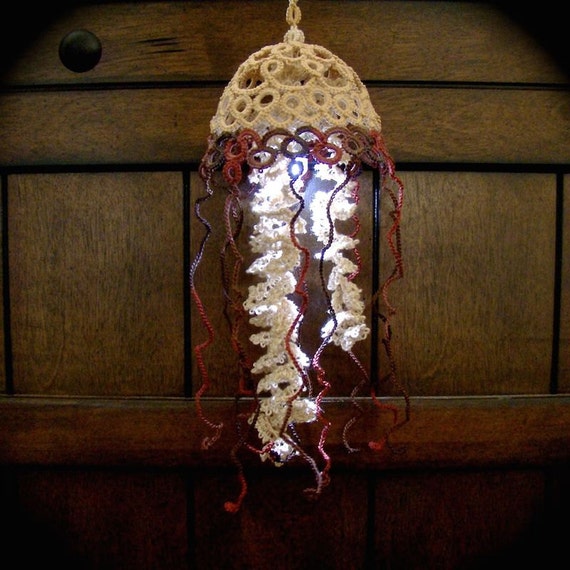 Speaking of the jellyfish, they both got listed after this little problem was solved. Also, wonderfully, the
blue one already has a home
. The other one here is still waiting for one. Honestly I am in complete shock that either one of them sold so quickly. I struggled with pricing on these a lot. It's always difficult to price for skill and time when you also want it to not be too expensive. When I settled on a price I could live with, I assumed that they would just sit in the shop as an art display for a long time until they found just the right person. I guess for once, just the right person had already seen it.
I'm also still at work on the larger on in vintage ecru. The bell is complete and I finished one oral arm yesterday with an additional row. I think that put my clock at about 4 hours just for that one part. I think for this one I will do 4 of them, but the others will have only the two rows. Then once they're finished it's onto the tentacles. There is a small chance that I will get this one finished over the weekend, but I'm not holding my breath. Once it's done I will try to make another smaller one in blues, though to keep each piece as individual as possible, I think the colors will be changed up a bit. I may just reverse the two bell colors. I am still just giddy that one has a home and here's to the others finding one as well.