Yesterday was a sort of a wash of a day and mostly that was my own fault. While my husband is our 'computer guy', I tend to be the one that fixes things that don't have circuits. So yesterday morning I sucked it up and went to fix something that I had been avoiding, broken drawers in the kitchen. You see the geniuses who built the kitchen stapled in the brackets for the drawer slides and since they're cheap ones, they keep breaking. So first I have to pull out the staples, injuring myself, then I have to install new brackets which means crawling inside cabinet spaces that are not quite big enough. The screws don't like to bite the laminated wood in there, so more injuries as I try to get the screws in. So suffice it to say, the morning started out poorly and painfully.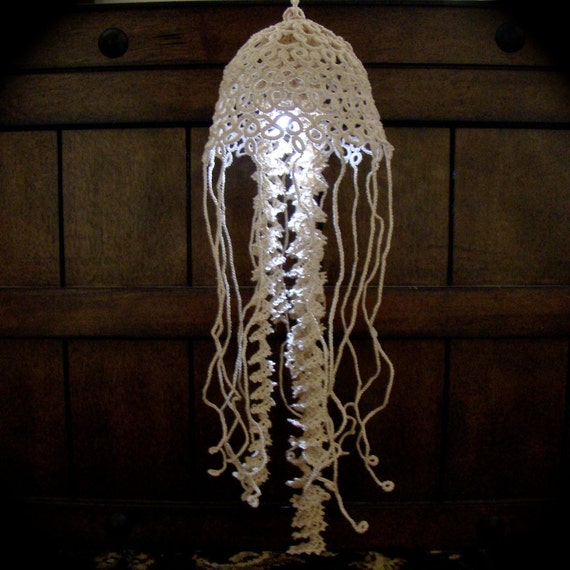 Of course following the fixing of two drawers achievement, I got the new Sea Nettle jellyfish listed. It was a bit harder to get photographs because it was larger and barely fit in front of the coffee table where this was taken. It still took me some time to settle on a price and I'm pretty sure because of that price it is going to stay in the shop for a very, very long time. I'm pretty proud of it though, so that's okay.
After this was was up in the shop and I took a few moment to absorb the letdown of listing it, I went back to work on a small blue one. I started it on Sunday, so it should get finished sometime today. After that I'm thinking maybe a purple or a green one. I'm just trying to keep busy with these while I can I guess. Finishing them gives me a sense of artistic accomplishment that remaking old designs does not, at least for now.