It was another warm day, but I didn't let it make me completely lazy. A little lazy, maybe, but not completely. The children had booked a date to go swimming at their grandparent's house, so I didn't need to make sure we got out to walk. That means that right after schooling I actually got so me tatting done.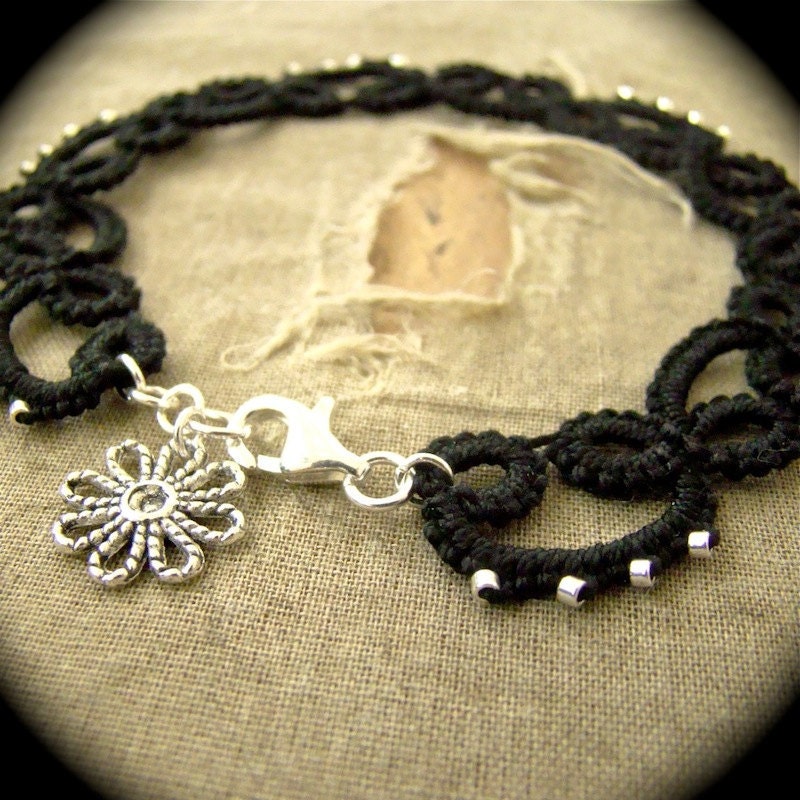 I started with remaking this anklet. It's a pretty basic design. I made a few tweaks here and there so that it would lay well. I also added silver beads and a small flower charm to the clasp. I generally dislike hanging metal from lace because it adds too much weight. That weight stretches the lace far too quickly while being worn, in my opinion. So adding the weight to the hardware seemed like a good idea. This isn't a new piece, I just felt the need to be descriptive.
It occurred to me last week as I posted a picture of my tatted spats, that most people haven't been following my work for the last decade and some things I think everyone has seen, they simply haven't. So I resolved to share more remade pieces as I work on them in an effort to continue to engage new readers and whatever you call folk who 'like' a Facebook page. I'm hoping that doing so will help reverse the backwards slide the shop has been in for the last year really. So my apologies in advance if you've been around a while and I'm just getting repetitive to you.
Today is predicted to be even hotter than yesterday and the children booked another swim date, so I imagine that today will play quite the same as yesterday. I still have a couple of pieces in queue to be remade and a couple more shows on my dvr to watch. So I suppose I turn the house into a cave to stay cool and work the day away.