I finally bit the bullet and spent much of yesterday...doing taxes. Yes, numbers and forms and fond nostalgia from the 90's when I could still use tele-file and it took literally 15 minutes of my time. This is the point where I remind anyone out there thinking that selling some tatting would be a pleasant, nay easy way to make extra money, that there is so much more to it than you might be interested in doing. Taxes and licenses and so much more nonsense. It really is a damn good thing that I love doing this 50 weeks out of the year because the other two weeks are a huge bummer.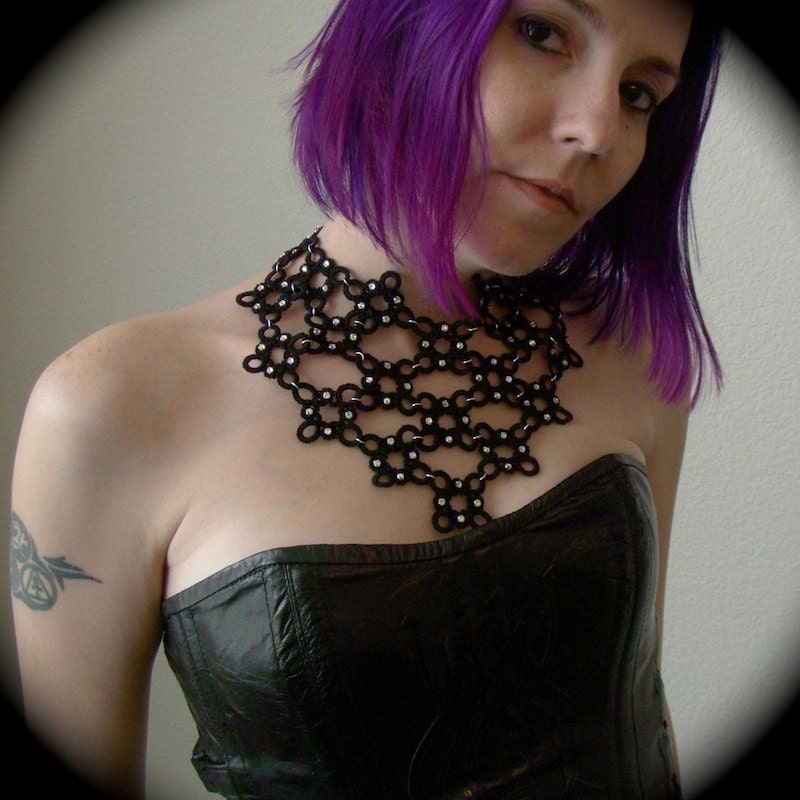 I spent the rest of my day finally finishing the lace maille necklace. It occurred to me that you may not know which necklace I've been yammering on about, so that's my excuse for sharing the picture again. Blog posts are better with pictures, right?
Toward the end of the evening I got myself a nice little order with a custom piece to make so I have a task on hand for today and then I get to remake the other pieces in the order likely giving me tasks into tomorrow as well. I'm feeling much better about March now that it's nearly half over.
Speaking of it almost being April...okay that was a labored segue, but that means that April 1st, also known as International Tatting Day is almost upon us. If you're just joining me, the proper celebration tradition is tatting in public and eating chocolate. I've tried to do a special limited edition pendant for the occasion that I offer for a very low cost to con more people into owning a little tatting. So I guess this whole paragraph was just my labored way of saying I'll be working on a new design for the occasion and if I can manage to come up with a good one, I'll offer it as a pattern as well, so wish me luck. I guess that gives me just a little more to do once I get the work in queue all done. It is nice to have tasks.