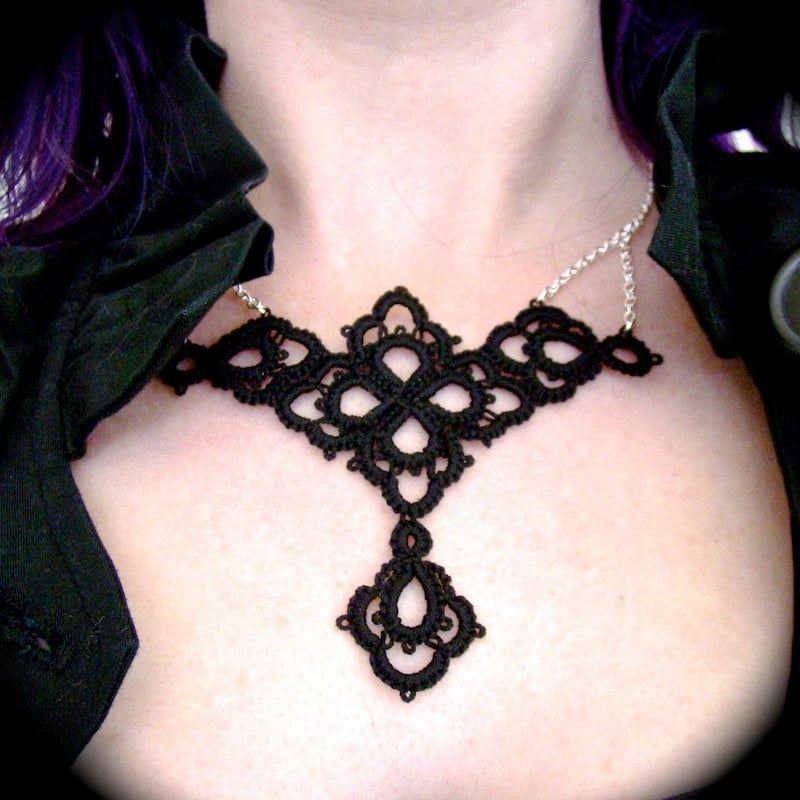 It was another fairly productive day around here. Right after schooling I managed to keep myself on task again. I got pictures taken and the new necklace listed right away. I almost stalled on it because I haven't been feeling up to modeling for pictures, but hold the camera just right and you don't even really see me and so that's what I went with.
As soon as that was done I went ahead and got back to the new piece I'm playing with. As is often the case, this one was born from plating with the last piece and seeing where else it could be worn. It almost fit across my hand so I decided to muck with it until I could make it into probably the daintiest slave bracelet I'm made yet. This one actually closes with a lobster clasp instead of the usual hook because I wanted it to sit over the hand more and just at the base of the wrist.
The rest of the day was devoted to remaking the pair of barefoot sandals that sold. While all this work didn't result in more sales, I did stay pretty busy and I still have to finish those sandals today followed by getting the new bracelet listed. So there's another day of tasks right there. My last major project is also out the door this morning meaning I have nothing that needs doing for anyone else. It's a weird and slightly uncomfortable state for me, so I'm of course hoping for another large project to descend from the heavens. Barring that, the muses could grant me an idea for one myself. I could also just continue working hard and focus on what's in front of me...yeah, I'm still holding out for divine intervention.