I spent much of the day making up pieces that needed to be replaced in the shop and telling the kitties happy birthday every time I walked by one of them. They didn't seem particularly interested in the event, but I think they secretly love all the extra attention. There were plenty of entries for the giveaway as well, but we'll still need a few more if you want to see what else I will give away. You have until Monday when I post to enter by leaving a comment on the giveaway post
here
.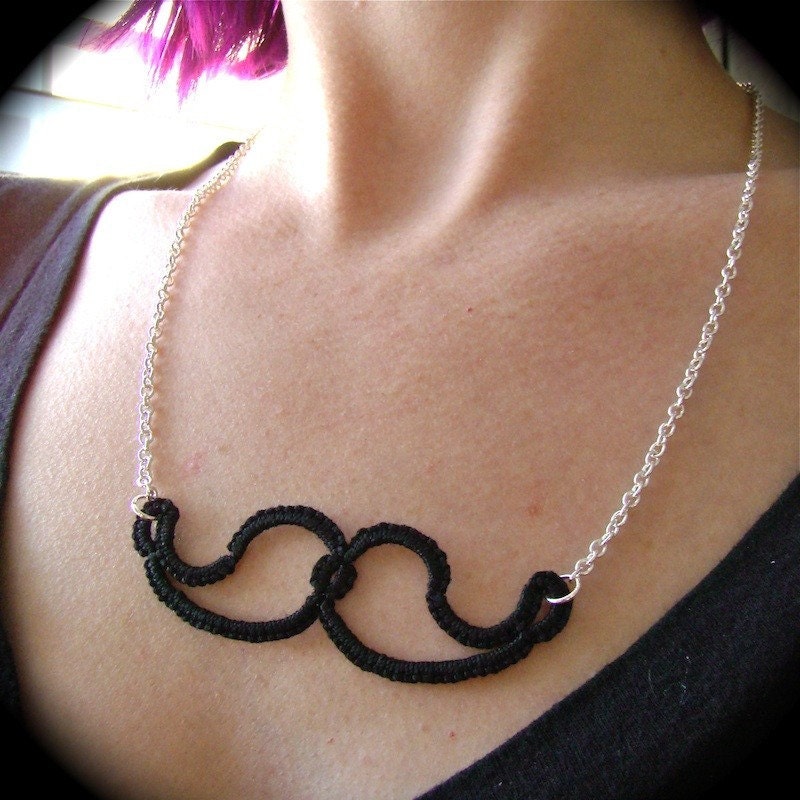 When the kids were down for their nap I happened to catch that Insructables weekly challenge was Mustaches. I generally ignore these sort of contests and challenges because of the limitations of using tatted lace for them, but not this time. This time I actually had a pattern already made up. I made my tatted mustache necklace as a bit of a hipster joke. They are very popular over at the etsy and I thought I'd join in with my own. All I needed to do for the challenge was take a few step by step pictures and post it there. So if you want to make your own the Instructable is
here
.
You can also stiffen it more and add it to a stick for that perfect ironic disguise or lazy Halloween costume. I've also been told it looks a bit like two birds kissing. Maybe in blue with yellow as the center ring and some long picots for feet. Point is, it's simple and available for you to play with should you have the desire.
I've caught up on the remaking of pieces so today is wide open save for the field trip to the park for the kids homeschool group. Well that and I really should get some cleaning done. I have really been slacking lately with no dinners or parties to host. Of course this doesn't mean I'll do any cleaning, just pointing out that it should get done. Well, that's it for me and please do scroll down to yesterdays post and enter the giveaway before it's too late.