Yikes, yesterday was full off odd moments. I started the day with absolutely no direction, than as I was walking about doing normal morning things, I thought about making an escutcheon. I know, weird thought and it was the negative space that was giving me pause. Then I thought, why the hell haven't I made a tatted key yet? I love keys, but up until just that moment I was happy adding real ones to my work. So I spent the morning working this out. This is actually the third incarnation. Most of the work on the prototypes was making the handle clover more elaborate while still the right basic size. I went with the double picots, mostly because I had never had occasion to use them before. Oh and there's also the inward facing picot to give the top ring a little more shape.
When I posted this to Facebook, or more accurately, the first prototype, there were a few requests for a pad lock to go along with it. Since that's just a few steps away from the key hole I was already thinking about and would likely require a much more simple hole in the center to convey it's identity, I said I'd try. This is the point in the day when things got odd. In the space of ten minutes I received three different orders. This has never happened before. Three in one day, sure, though still rare, but I'd no sooner sent a confirmation email to one customer when the next order rolled in. It was surreal. I had to stop all work on the padlock to take care of a few custom bits and remake the other pieces. Oh, and just to be difficult one sold piece refused to be found and I had only enough supplies to make one more. When I searched online for the filigree bits, they were nowhere to be found, so I guess it's the last of that pendant.
After that all settled down I got back to work on the padlock idea. This is what I came up with after one other attempt late yesterday. There is still more work to be done on the design, some tightening of picots and whatnot, but I think the shape works. I still might flesh out the more complex escutcheon design, but I think this will make a nice necklace.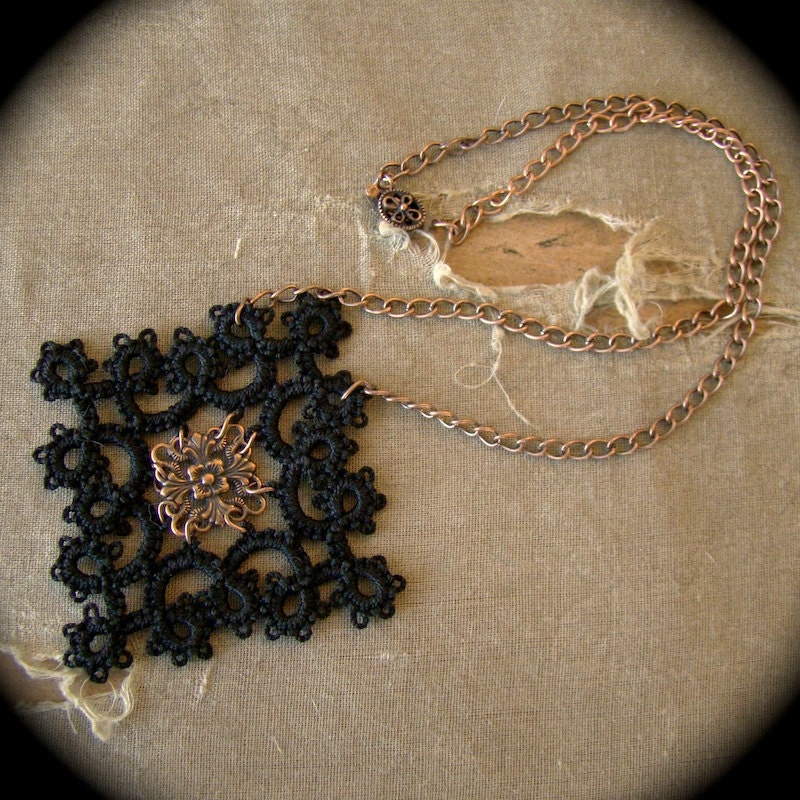 Oh, that reminds me I also listed a new necklace yesterday made for a bit of lace that I did not intend to make. I was distracted and started the wrong pattern and turned it into a square. I've got a few more of the square filigree bits I used here so if it sells, I'll make it again. Well, I think that's everything for me today. Here's to another weird one today!