Let's see...it was a pretty long weekend full of all sorts of tasks. On Friday morning I finished up the purple necklace. It took another day, but it did sell. Then my mother-in-law, who was picking up the kids for a baking adventure, requested a couple of snowflakes. I thought about putting them off until next week when the shop is likely to be completely dead, but really it's been nearly dead all season, so I took the afternoon to make them and missed nothing in the shop.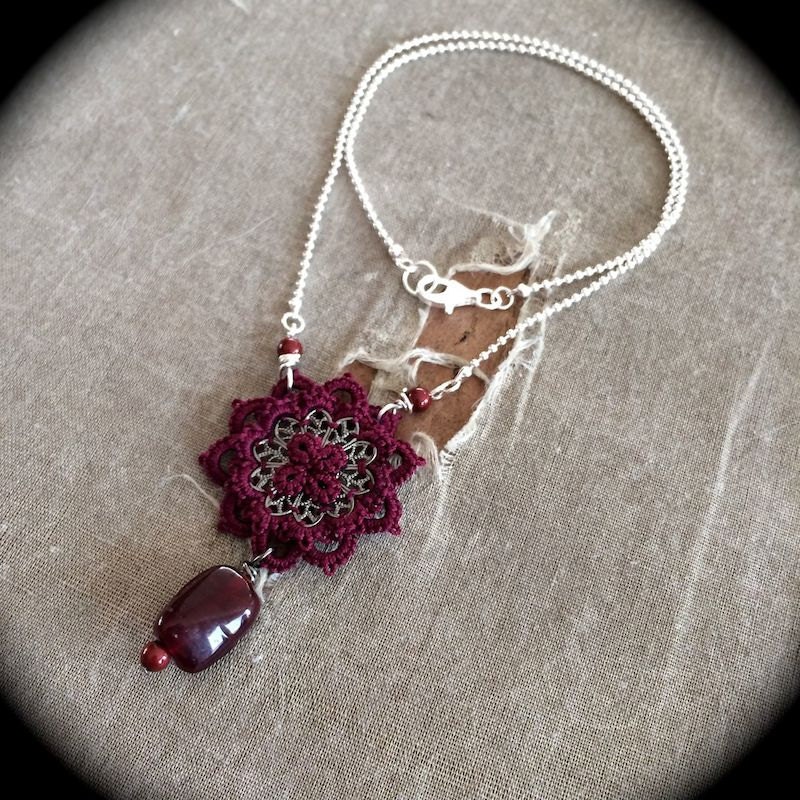 Saturday morning, I was determined to get another piece made before we started our family adventuring. I went with burgundy again because the first one got so much attention. I actually have a couple more of the filigree flower I used on this one, so there might be a couple more in this basic family forthcoming. Anyway, it's listed and still available in the shop. Then we were off to Lowe's to build a train followed by the rest of the day at the most recent Hobbit movie. Seriously those movies are crazy long and we were still disappointed when it was over because we know there's more.
Sunday saw the kids again adventuring with their grandparents and cousins. They spent almost all day over there baking and decorating, so we came home and wrapped all the presents. I was going to make a snarky comment here about the husband, but I may have already mocked him enough on the subject, so I'll leave it be. We also managed to finish all the shopping save for a few last bits and the things I'm still making.
The weekend saw just a couple of sales in the shop and unfortunately I don't have high hopes for this week getting any better. It has certainly been a rough holiday so far, but I will keep tatting up as many new pieces as I can handle and cross my fingers that I'm wrong and a shopping hurricane is about to begin. Yep, that's what I need a shopping hurricane to come through the shop. I'm crossing my fingers for that now.