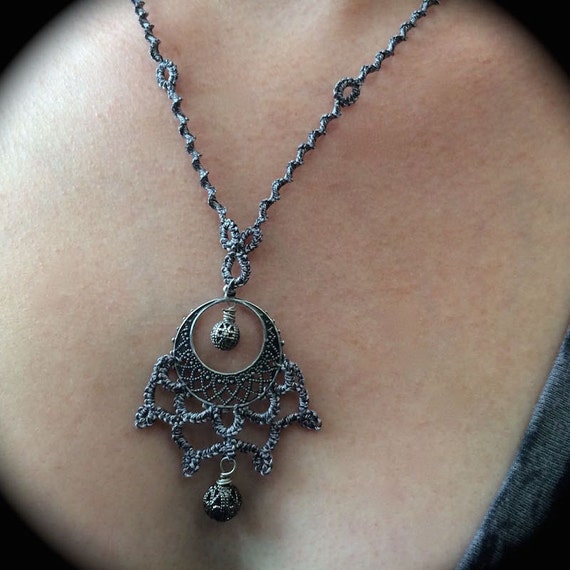 It's always a much longer day when we have to have a teacher meeting. Not because the meeting itself is long or stressful, but just because it breaks up the routine a bit. That means when we get back, it takes additional prodding to get the kids back to work. Then it takes additional motivation for me to get to work after schooling is wrapped.
All that being said, I did get the new necklace listed in the shop fairly early in the afternoon. I was having one of those running about afternoons with laundry and other such nonsense, so I really had to force myself to stop and take pictures, but since I knew I wasn't going to get to sit until it was done, I did it.
Right after I listed this I heard a sale notification and I thought this piece sold, but no, it was another necklace. That gave me something that needed tatting just as I needed a fresh task to keep me from cross stitching. This one is one of the simplest choker necklaces I make. It was modified slightly from a very common vine like pattern. I love it because it curves perfectly into a nice rounded necklace. Well that and because I can make it while paying little attention to what I'm doing. It's all muscle memory at this point.
I don't really have any tasks in queue for today, but with Halloween tomorrow, there's some last minute costume stuff to work out with the kids. Of course we have a 100% chance of rain predicted here for Friday evening, so I'm not even certain we'll get to go out at all. It's a shame, but we do desperately need rain. Hopefully a solution will present itself.