Monday might not have been perfect, but it was a great deal better than the weekend. I had a lot of housework to catch up on after the weekend of lying about all uncomfortable. There was schooling, laundry, dishes and various other small things I had let slide. I did however get the
new necklace
listed like I wanted pretty soon after schooling wrapped.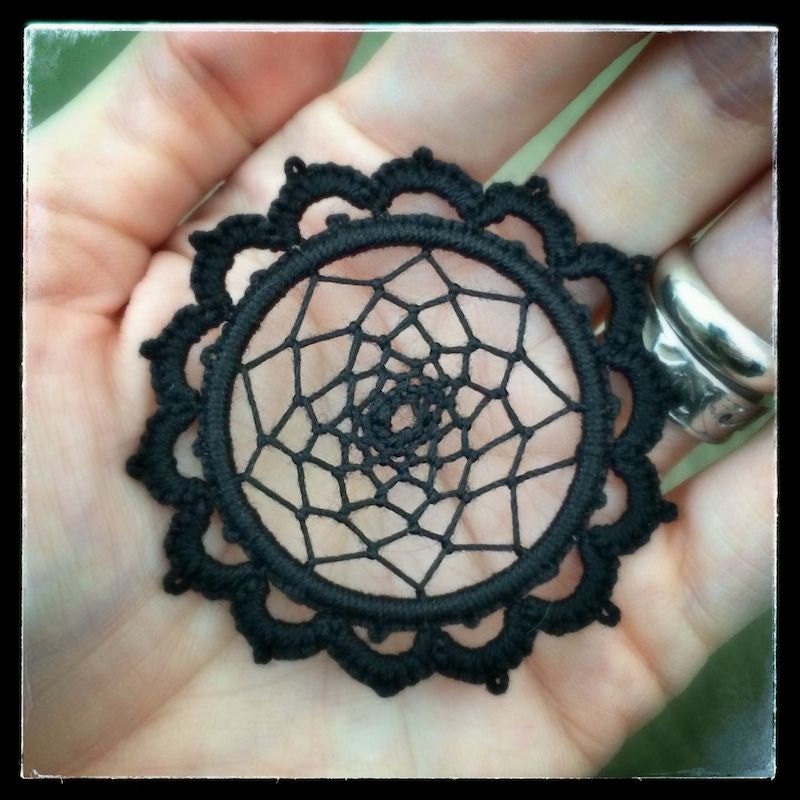 When I had a moment to sit down I started fiddling with another ring and decided to go ahead and try making a dream catcher inside. I used to make them all the time, the real way as a kid. My mother is very into our Native heritage and we made them with leather strips and sinew. Feathers and charms were all over the house. I even made a few more authentically with small branches twisted into the ring that should be around here somewhere, but I digress. It wasn't until someone over on Facebook made the suggestion that I even thought about combining tatted lace and a dream catcher.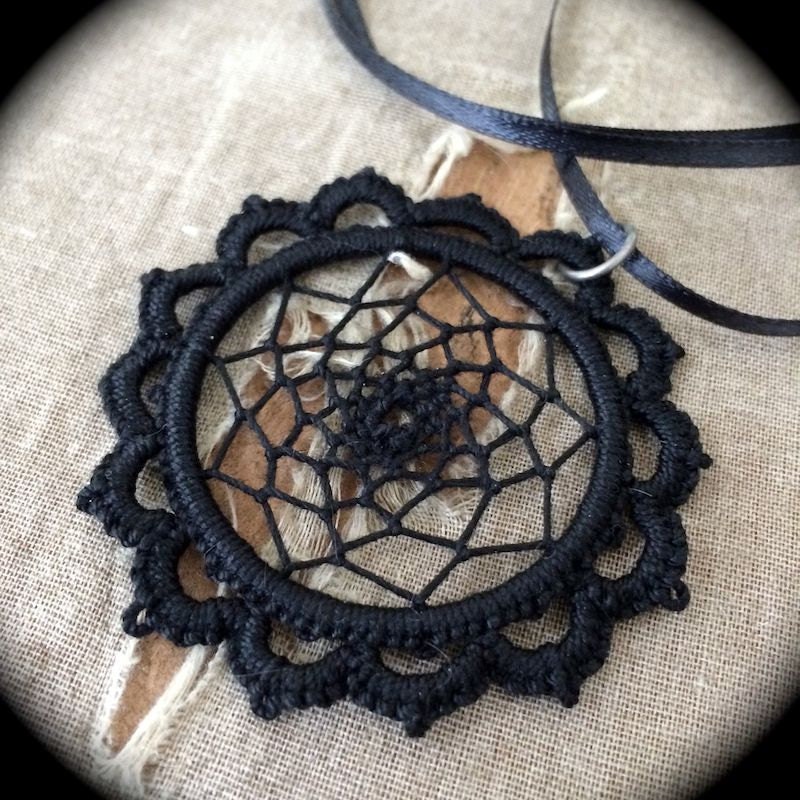 It seemed to go over so well when I shared the first one that I rushed it into the shop and sold one fairly quickly. I started a second one right after the first so there's still one in the shop. They are a little hard on my hands to make. Weaving that tiny web, even with the help of my needle is a little cramp inducing. I really like the way it turned out though, in fact it may end up being one of my holiday gift pieces this year. It makes a nice big pendant, but it could very easily be an ornament, or used in the traditional sense. Just don't hang one from your rear view mirror. That's one of my mother's pet peeves. She says, unless you're sleeping while driving, this is a completely ridiculous use of something meant to rid one of bad dreams.
I did make the mistake of checking on my shops stats yesterday against the last few years at this same time. Turns out I'm not being paranoid nor whiny, the shop really is doing very poorly this year. I don't know if it's the economy or the recent changes over at etsy, but any ideas as to what encourages you to shop a little would be greatly appreciated. I'm mulling different kinds of discounts and gifts with purchase. Of course, I'll likely just ride it out with a frugal holiday and hope for the best and today, today I'm going to make more tatted dream catchers.