You would not believe how chaotic it got around here with three extra kids on vacation. I suppose you would if you either have that many kids or were at any time tasked with babysitting them. The point is, I am very lucky to have gotten anything done at all. Schooling required extra concentration as the other kids were already here and playing while I forced mine to learn for one last day before their vacation. As soon as I let them stop, the volume of the household rose.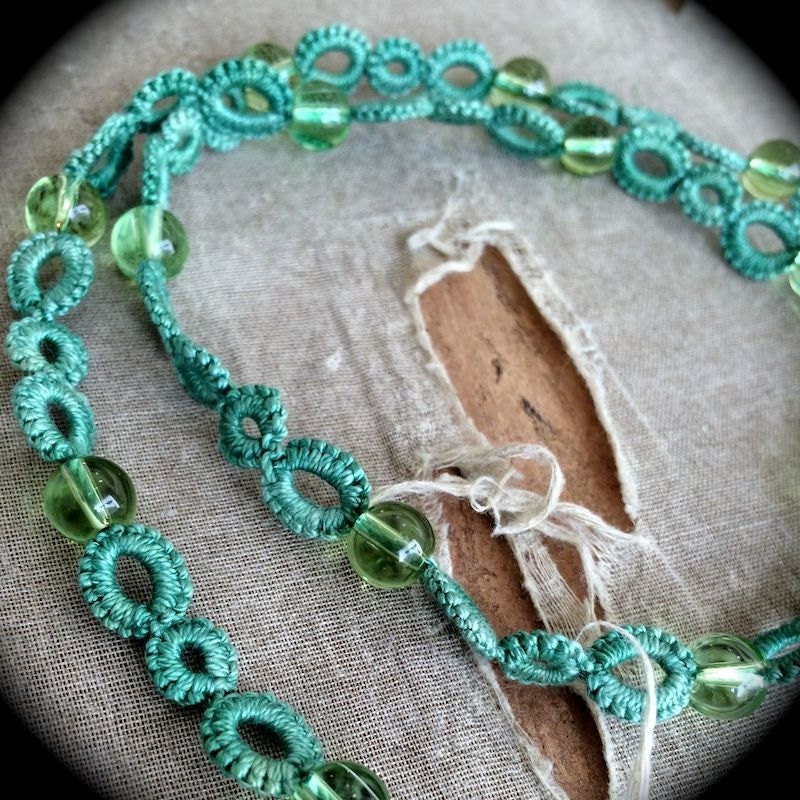 Since I knew I wouldn't be getting anything new and interesting done, I went for mindless and repetitive. That way I could still pay attention to the chaos in case intervention was required. So I made another split ring necklace. This one with the last of the middle sized green glass beads and some older hand dyed thread again. Basically, I'm trying to use up what I have on hand, rather than spend money on new supplies to make things. I still haven't ordered any more findings for the pieces that need them on hand. I'm waiting patiently for things to continue to pick up before I spend a cent on anything not vital.
Today has been earmarked for cleaning, so I'm not certain that I'll get around to any tatting, though it definitely makes my day nicer to spend at least a little time with the thread so I might carve out a little time. Thank you to everyone that has shared my sale information around. I really do appreciate the support. Now I'm off to household duties, reminiscing about those childhood days when vacation meant doing nothing at all.