So, I've been super busy lately, mostly making masks. I really did not anticipate having to make more than a dozen of these suckers.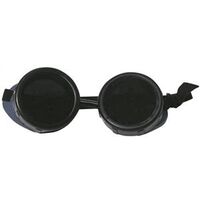 Not that I'm complaining mind you, but I am looking forward to making something, anything else after Halloween. To that end, I have finally broken down and purchased a pair of brazing goggles for future embellishment. They came in the mail yesterday and and I'm bursting with tatting ideas. The plan is to use tatting to encircle each eye cup and if I'm feeling adventurous, also covering the headband portion as well. I'm afraid right now that using black on black would lose all details of the lace, but since I won't be working on it for a while anyway, I can let the ideas percolate. I imagine if they turn out really good I'll make a few for sale, but the first pair is definitely mine.
Since that's about all that's happened recently on the creative front, I thought I'd give a product plug out for one of my recent purchases on the etsy. As I have repeatedly mentioned, I used to work at a music store. We received tons of promo tags to wear and these were always accompanied by piles of bead chains, which I collected. I would wear several connected together wrapped around my wrist and neck...because they looked cool. Anyway, as I was checking one of my fav stores, I saw this beauty. It is just so me, and I quickly snatched one up.
The description states that it will wrap about 10 times...mine goes 11 and it is so comfy and neat looking. I actually haven't taken it off since I got it. I can't really wear jelly bracelets or bangles because my wrists are so small, but this piece lets me rock the look of tons of jewelry easily. Allison from
RockLove
is also an awesome seller I've had the pleasure of being acquainted with for a while now and I highly recommend her as a seller as well as her fabulous edgy pieces.
Just for a bit of added kick, here I am rocking the bracelets.