I was still pretty out of it yesterday with the cold, though I seem to be a bit better this morning. It's really too soon to tell how the day will progress, but I'm cautiously optimistic that I'm finally on the upswing. I'm even typing better this morning. I mostly worked on the knitted lace top I showed you yesterday. I'm using this
Cancun Boxy Lace Top
pattern as the base, but since I could never get away with wearing something so short, I'm doing it longer and I might muck about to give it more sleeve as well, but for now I've finished one side.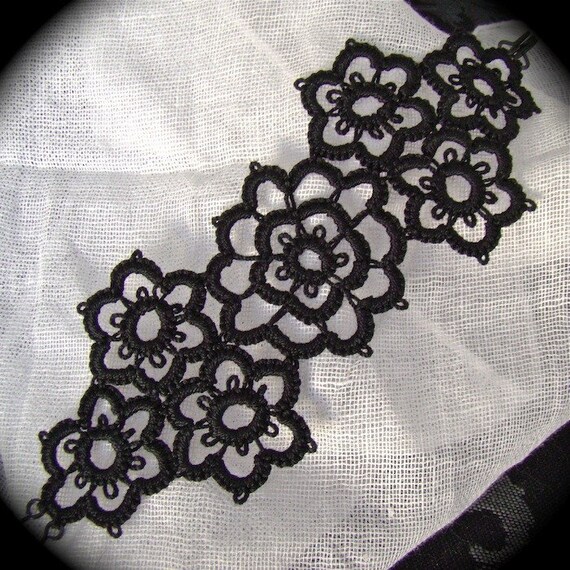 I also remade this tatted bracelet after sending one off to it's new owner. Well that's not exactly the right order. I checked to see if the measurement of the one I had made matched the length in the listing and it was too short so I made a new one first with the right length then edited the listing to reflect the length of the one I had on hand. I tat much tighter than I used to and I find that when I remake old pieces they get shorter. They look better too, but that's not the point. Replicating my older pieces is getting more difficult as I must now change stitch counts so they work properly. Luckily that's only something another tatter might catch as a difference. I try my best to make sure they still look like the photographs.
I did get another order in the shop yesterday, quite unexpectedly. That means along with my knitting I also have a pair of barefoot sandals to tat up. I rarely finish those in one day, so that gives some work for tomorrow as well. I'm still thinking on what to do for a giveaway, but I want to do something before the week is out. My brain seems less foggy now though, so perhaps today is the day I get a good idea. Anything's possible, right?